Basket Mill Paint manufacturing Machine
Basket Mill paint production machine/manufacturing machine/Production line
Introduction:
ELE focus on full sets of paint manufacturing machines, include:High speed disperser, Grinding bead mill, Basket Mill, Filter, Filling Machine , Tanks etc, It is up to technology development of international tend in coating industry. It can realize to high fineness, high efficiency for any working procedure, such as dispersing, milling and paint mixing etc.
Basket Mill-- Dispersing and Grinding Together Machine:
This machine integrates pre-disperse, fine grinding and eventually spread into one machine. The disperser, speed up wet the surface, advance the dispersing effect;
Low cost, high quality , reaches best effect in few minutes;
Convenient to change the color and products, one machine can produce different kind of materials.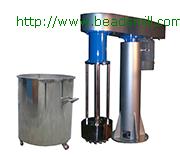 Application:
Paint: automobile paint, finish paint, wood paint, industrial paint, etc
Printing ink: gravure printing ink, offset printing ink, silk screen ink, UV light solid ink, inkjet, etc
color paste, pigment, carbon black, phthalocyanine blue, yellow, titanium dioxide, dyestuff, pen liquid, watercolor
Electronic materials: battery diaphragm alumina, Fe batteries, ceramic slurry,
Chocolate syrup, pesticide concentrated suspension, biologic medicine, cosmetics, microbial functional materials.
Nanometer material, metal oxide, magnetic materials, papermaking industry, optoelectronic industry.
Any Inquiry, Contact us: Sale@elemix.cn
Technical data:
Model

Basket Volume

(L)

Power

(kw)

Rotation Speed

(rpm)

Capacity

(L)

Media

(mm)

Stroke

(mm)

EBM-4

3.6

4

0-3000

<120

1.8-2.4

800

EBM-7.5

4.9

7.5

0-1500

<200

1.8

900

EBM-11

6.6

11

0-1500

<260

1.8

900

EBM-15

9.1

15

0-1500

<350

1.8

900

EBM-18.5

17.2

18.5

0-1500

<500

1.8

1100

EBM-22

20.1

22

0-1500

<800

1.8

1100

EBM-30

32.3

30

0-1500

<1200

1.8

1100

EBM-37

39.2

37

0-1500

<1500

1.8

1600

EBM-45

52.3

45

0-1500

<2000

1.8

1600

EBM75

85.4

85.4

0-1500

<3000

1.8

1800



Other machines interested: